Chemicals are in the car you drive, the clothes you wear, and almost everything else. The global chemical industry is huge, with almost $4 trillion in total annual revenue. Any market of that size presents opportunities for investors. Here's what you need to know about investing in chemical stocks.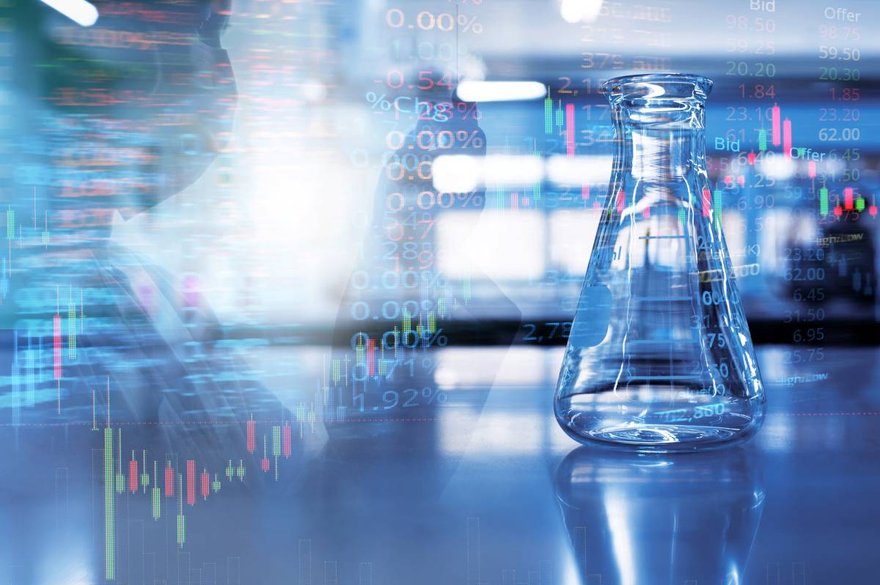 Image Source: Getty Images
Top chemical stocks to buy in 2023
There are quite a few large-cap companies in the chemical industry that attract significant attention from investors. However, there are also some smaller companies that offer plenty of upside potential. Here are five top chemical companies, including both large and small companies:
Data source: Yahoo! Finance. Valuations current as of March 9, 2023.

| Company | Valuation |
| --- | --- |
| Air Products & Chemicals (NYSE:APD) | $63.1 billion |
| Dow (NYSE:DOW) | $39.0 billion |
| DuPont (NYSE:DD) | $32.5 billion |
| Huntsman Corporation (NYSE:HUN) | $5.2 billion |
| Tronox Holdings (NYSE:TROX) | $2.3 billion |
1. Air Products & Chemicals
Air Products & Chemicals sells chemicals and gases for industrial use. The company markets products used by more than 170,000 customers. These customers operate across a variety of industries, including electronics, food and beverage, manufacturing, metals, and refining. Air Products & Chemicals is also the global leader in liquefied natural gas process technology.
The shift to clean energy should be a significant growth driver for Air Products & Chemicals over the next decade and beyond. The company already ranks as the largest supplier of hydrogen, which is being increasingly used as a fuel for buses, trucks, and other vehicles. It's also a leader in carbon capture and gasification -- a technology that converts coal, high-sulfur-content liquids, and natural gas into syngas that's used to make chemicals and fuel, as well as to produce energy.
The company's adjusted earnings per share have increased at an annual rate of 11% during the past six years. Air Products & Chemicals is a member of the Dividend Aristocrats, an elite group of S&P 500-listed companies that have increased their dividends for at least 25 consecutive years.
Founded in 1897, Dow is one of the oldest chemical companies in the world. The company's products include coatings, industrial intermediates (chemicals used by other industries), plastics, and silicones. Dow restructured in 2019 to streamline the business, positioning the company as No. 1 by market share for 14 key chemicals.
Although Dow's business was affected by the COVID-19 pandemic, its future prospects appear strong. The global economic rebound spurred by vaccination has helped boost automotive, electronics, housing, and industrial markets -- all of which are key consumers of Dow's products. Long-term increasing demand for renewable energy, electric and autonomous vehicles, and high-speed 5G networks should also help Dow continue to grow.
The company's dividend is another big plus. Dow's dividend yield has remained near or above 4% since its spinoff from DowDuPont in 2019.
DuPont is even older than Dow, with its establishment dating back to the early 1800s. The company's products are used by customers in multiple industries, including building and construction, electronics, healthcare, transportation, and worker safety.
Like Dow, DuPont has undergone a lot of changes. The current company was one of three divisions of DowDupont that separated in the 2019 reorganization. In February 2021, DuPont spun off its nutrition and biosciences business, and the unit merged with International Flavors & Fragrances (IFF -0.58%).
DuPont completed the acquisition of Laird Performance Materials for $2.3 billion in July 2021. The transaction boosts the company's leadership position in supplying electronics materials for several markets, including artificial intelligence, autonomous vehicles, Internet of Things, and 5G networks. DuPont's materials are already widely used in smartphones, semiconductors, and OLED (organic light-emitting diode) displays.
More recently, DuPont announced an agreement to sell at least 80% of its mobility and materials segment to Celanese (CE 2.18%). The deal will generate $11 billion in cash. DuPont also plans to sell its Delrin polymer business by the first quarter of 2023.
Huntsman generates almost 60% of its total revenue by selling polyurethane products, including insulation and construction materials. It also makes chemicals and materials used in fuel, along with lubricant additives, adhesives, coatings, apparel, furnishings, and more.
The company has done plenty of buying and selling recently. In 2020, Huntsman acquired Icynene-Lapolla, the maker of spray polyurethane foam insulation, and specialty products maker CVC Thermoset Specialties. It also sold its chemical intermediates businesses and its DIY consumer adhesives businesses. In 2021, the company acquired specialty chemicals maker Gabriel Performance Products.
Huntsman ranks as the leading spray polyurethane foam (SPF) insulation manufacturer in North America. The SPF market has grown by an annualized rate of around 7% over the past seven years, but it still makes up only 15% of the total insulation market for the continent.
Tronox is the world's top vertically integrated manufacturer of titanium dioxide pigment. The company has mining operations in Australia, Brazil, and South America. Its operations provide raw materials used to produce titanium dioxide pigments used in paints, paper, plastics, and other products.
Although it's the smallest of the chemical stocks on our list, Tronox is well-positioned to grow. Demand for titanium dioxide remains strong as economies across the world reopen after COVID-19 lockdowns.
Tronox reported record revenue in 2021 of almost $3.6 billion It projects adjusted earnings per share will increase more than 45% in 2022.
Did You Know?
Close to 80% of the chemical industry focuses on producing polymers and plastics, linking it closely with the oil industry.
The cyclical nature of the chemical industry
The chemical industry is tightly linked with several other industries, especially the oil industry. Almost 80% of the chemical industry focuses on producing polymers and plastics, which typically are made from petrochemicals.
Many of these polymers and plastics manufactured by chemical companies are used by consumer goods companies. Automakers use plastic and polymers in building cars and trucks, and synthetic rubber is used in manufacturing tires.
Chemicals are also used to make fertilizers and other products for the agriculture industry, as well as ingredients for the food industry and paints and other key building and construction products. They're also critical in the development of many drugs.
Because of the close interconnections with so many other industries, the fortunes of the chemical industry are strongly correlated with the health of the overall economy. As a result, chemical stocks tend to be cyclical in nature. For long-term investors, though, buying and holding the stocks of high-quality chemical companies can pay off nicely.
Keith Speights
has positions in Air Products And Chemicals. The Motley Fool has no position in any of the stocks mentioned. The Motley Fool has a
disclosure policy
.